Call Blocker
Block spammers, telemarketers and unwanted calls forever.
Enjoy a 2-week free trial of all our features. Cancel anytime.
Thumbtel's easy-to-use call blocking technology allows anyone to block spam calls. The technology has so far stopped over 1 billion robocalls and is now rolling out in Hullomail Voicemail. When you download the Hullomail Voicemail app, you can configure your phone to block spam callers and contacts from leaving voicemails including stopping your phone ringing. In the coming months, we will also be adding automatic detection of unwanted calls from our proprietary list of spam and robocall callers.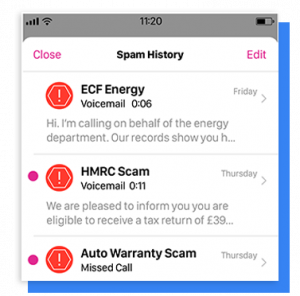 Why should you get a call blocker from Thumbtel?
Statistics show that nearly 50% of the calls people receive are unwanted. That means you could be speaking with a dangerous individual or business half the time you answer the phone. Hullomail's call blocker secures your privacy. For telemarketers, our technology convinces their sales team that your phone is actually disconnected, removing you from their calling list forever. We also protect your voicemail box, so once you have earmarked a spam caller we'll make sure they can't leave you any more voicemails.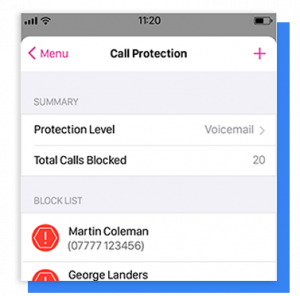 Download Hullomail Voicemail
Questions? We have answers
Q: What is the best visual voicemail app with call blocker for iOS and Android?
A: Hullomail is the best visual voicemail app with call blocker out there offering better services for your mobile network including better voicemail transcription  and call protection on your mobile devices
Q: How do I stop unwanted calls on my mobile?
A: Hullomail will help you stop unwanted calls from reaching your mobile phone. Simply get Hullomail Voicemail for iPhone or Android signup and follow the instructions and try for free for 14 days. You can read how to stop unwanted calls here.
Q: How do call blockers work?
A: When you download the Hullomail mobile app and people begin to call, you can configure your phone to stop unwanted calls, prevent the phone from ringing and even hang up and disconnect the caller.
Q: How do you stop spam calls?
A: With Hullomail, spam callers can be blocked just as frequently as you wish. That means you don't need to download a separate app. You can read about and how to use Hullomail's Call Blocker here. Your phone is protected with Hullomail.
Q: How do you block incoming calls?
A: Simply add the individual to the block list in the Hullomail app. There's no limit to the numbers you can add.