The latest release of Hullomail for iPhone & Hullomail for Android sees improvements to our Call Blocker feature.
Spam calls reported up by 250% in the UK in 2020  
During 2020 the Department for Digital, Culture, Media and Sport reported a 250% increase in nuisance and scam calls. Members of the public reported the usual calls from fraudsters claiming to be from organisations such as BT and Amazon. Added to this, callers posing as the NHS with information regarding track and trace or vaccinations exploited the coronavirus crisis. 
We all know how annoying, intrusive and even threatening unwanted calls can be, so Hullomail visual voicemail app is here to help. 
How can Hullomail visual voicemail help?
Hullomail has always enabled you to prevent nuisance or unwanted callers from leaving you a voicemail. As promised we've started to implement the first phase of our enhanced Call Blocker capability. 
You now have two further options when blocking a caller – Block them from ever calling again in future or Block and Report them as Spam. 
How to block callers
Here's a reminder of how to block a caller:
In the Hullomail app, swipe left on missed call or voicemail from the caller and select Block & Report as Spam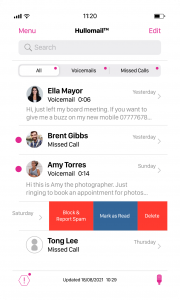 Select 'Block Only' if you would just like to prevent the caller from leaving you a message and from calling you again; this is set by going to Call Protection Level from the Main menu.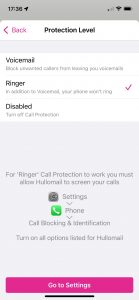 Once blocked altogether (when Ringer is selected), the caller will hear a disconnected number tone in future and if it's a marketing call, with any luck they'll remove you from their database!
Report spam and stop robocalls
If you'd like to go one step further and let us know about a nuisance or repeat caller, select Block and Report Spam.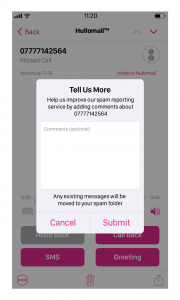 Provide some info about why you feel they're a spam or nuisance caller and how they've bothered you. We're using this information in partnership with the telecoms regulatory body to build a list of repeat offenders so we can ultimately stop robocalls – these are the nuisances who call you with a long pause, a recorded robotic message or take several seconds for the call to click through from a call centre. 
Coming soon with Call Blocker
The next iteration of our capability will automatically stop robocalls and other unwanted callers from calling all Hullomail subscribers. So the number you report may eventually benefit us all!
Although we'll no longer notify you in future if your blocked callers try to bother you again, you can find out for yourself by tapping on the new 'Spam' filter in your main inbox.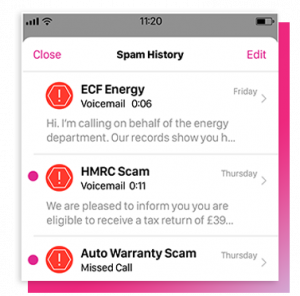 We hope you'll find these and the upcoming Call Blocker features useful and as always, please contactus@thumbtel.com if you have any ideas or feedback. 
The Thumbtel Team