Sometimes it can be good to get through a little work in the evenings or at the weekend if you're feeling behind, or you want to prepare for the day ahead. That's all fine when it's on your own terms and it's something that you have anticipated.
This can become a problem though when you have planned a quiet evening at home to relax, or a weekend away from it all to recharge your batteries and start to receive unwanted interruptions.
Once work has crept into your evening or weekend unexpectedly, even if you're doing something relatively mundane like the weekly shop, it can feel intrusive and cause unnecessary stress. Even if you decide not to answer the call, text or email, it's bound to play on your mind…"I wonder what they wanted?", "Is it something urgent?", "Can it wait until tomorrow?".
Most often, work can wait until tomorrow but it's far better not to be interrupted at all. As long at the person who calls or sends you a message or email knows that you are planning to switch off entirely and you're clear about when you will be back in touch, or have given an alternative person who can help, then they should be understanding.
That's why we have a Do No Disturb setting in Another Number. It's very easy to set up and can be found in your Switchboard. Once this has been enabled, your callers will receive a custom greeting telling them what you're doing and when you'll next be available. You won't even know that they've been in touch until you're back in work mode.
here's how to set it up: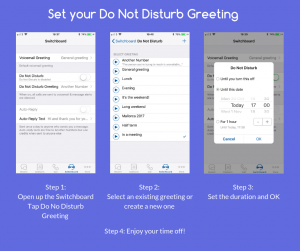 If you have any feedback or suggestions for features to improve your second number for work, then please comment below or email contactus@thumbtel.com
If you don't yet have Another Number then you can start a free trial for iPhone here or Android here.