Another of our lovely subscribers has posted a review on the App Store and given us further feedback about why they love Hullomail.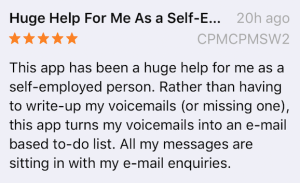 Christian is an Executive Coach and Psychotherapist and with 30% of his business coming through via phone and voicemail, Hullomail plays a vital role.
Do you use Hullomail more for work or personal use?
Mainly business
How do you receive new business enquiries?

30% by 'phone/voicemail – the rest by e-mail.
What did you use before Hullomail?

I just had to write out voicemails/add them to a to-do-list.

How did that work for you?
Not well – I hate writing by hand and I'm very e-mail based.
What is the best feature of Hullomail? 
It's the transcription – it just integrates all my voice-mails with my e-mails. Also, how an initial enquiry is handled is very important in my area of work, so I don't want to miss any calls.
How did you first hear about Hullomail?
Researching solutions to the above.
If you are worried about missing valuable new business enquiries or find it hard to manage business voicemails then give HulloMail a try from just 79p a month. You can find it for iPhone here and Android here or contactus@thumbtel.com if you have any questions.