Another Number which adds a second number for work to an employee's personal smartphone, now has more useful features for internal communications:
Pre-populated contacts list: You can see now see the names, roles and contact details of all colleagues within your team pre-populated in your Contacts list. So when somebody new joins your organisation they don't need to search or ask for a useful number, they can simply go to Contacts in the app. Of course this will only be each employee's work number as their personal number is always kept private.
Broadcast: We have now made it possible for a team administrator to send out a broadcast message to an entire team via our online admin portal. An easy way of ensuring that everyone is kept informed without adding to people's email inboxes.
Coming soon: Group chat
Many of you have let us know that social media platforms have become unofficial channels for internal communications as they're often the easiest tool to use across all devices. Our next release looks to address this with Another Number Group Chat, an IM based tool which can be used within your team, with all messages stored in our cloud based service should you or you team members need to refer back to them.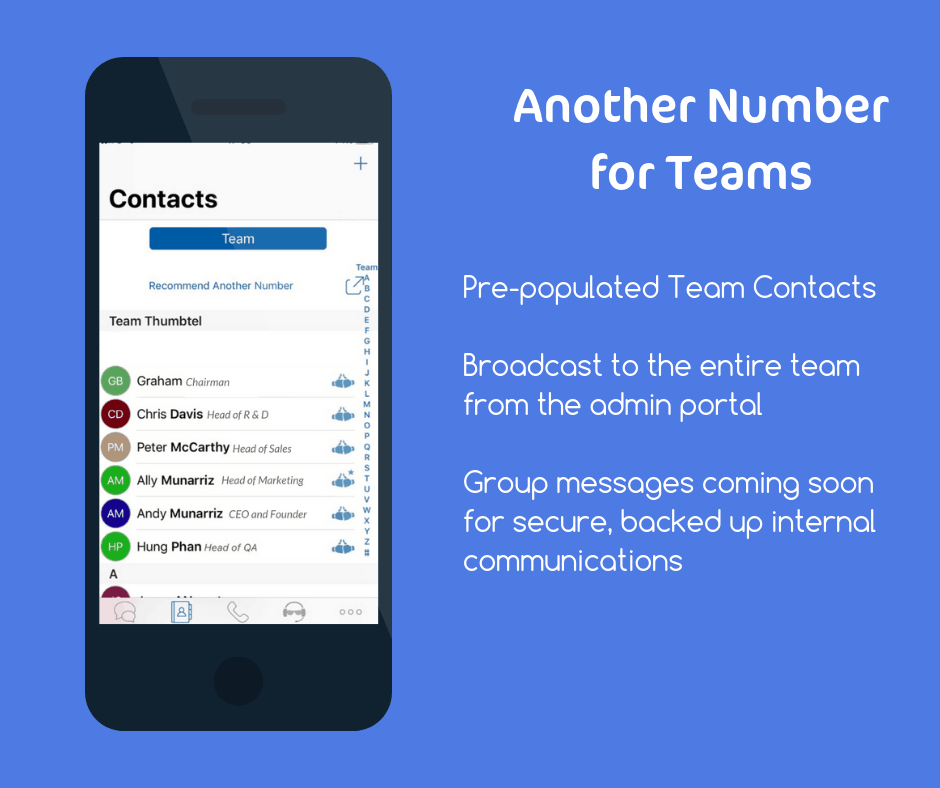 If you'd like to know more, take a look here or go straight to the Team Portal to start your free trial. If you'd like help with promoting the service internally, planning out your BYOD policy or setting up a pilot then we'd be happy to help – contactus@thumbtel.com and we'll give you a call.