Barry O'Connell first used Hullomail in 2010 and now describes it as 'Indispensible'.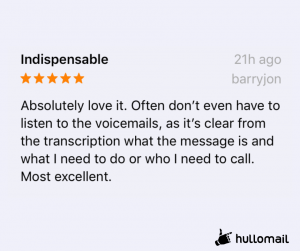 So Barry, do you use Hullomail more for work or personal calls?
I use it mostly for personal calls but I am planning to start my own business soon and will use it for that too.
Why is keeping on top of missed calls and messages important to you?

It's one less "open loop" to worry about.
What did you use before Hullomail?

Regular voicemail.

How did that work for you?
Old fashioned, regular voicemail was a pain to use. Who could ever remember which number was to save and which was to delete a message? It was also less discrete, you had to make time to phone into your mailbox.
What is the best feature of Hullomail? 
The transcription functionality. Means I can see who called and pretty much what they said. Often, that's enough.
How did you first hear about Hullomail?
I think it was from the now-defunct Mobile Industry Review website. I first used Hullomail in 2010.
If you want to keep on top of your missed calls and voicemails without dialling in each time, give HulloMail a try from just 79p a month. You can find it for iPhone here and Android here or contactus@thumbtel.com if you have any questions.